Skip to Content
Complete Brake Services in New York
Hewlett House of Tires, Tire Pros offers comprehensive brake services on all makes and models of cars, light trucks, and SUVs for the protection of you, your passengers, and other vehicles on the road while you're out driving around. The brake system is one of the most important safety features of your vehicle that should never be ignored. The components that make up the brakes wear down over time, and visiting our shop for a periodic brake inspection ensures you don't drive around for too long with insufficient braking function. Schedule an appointment for brake service today.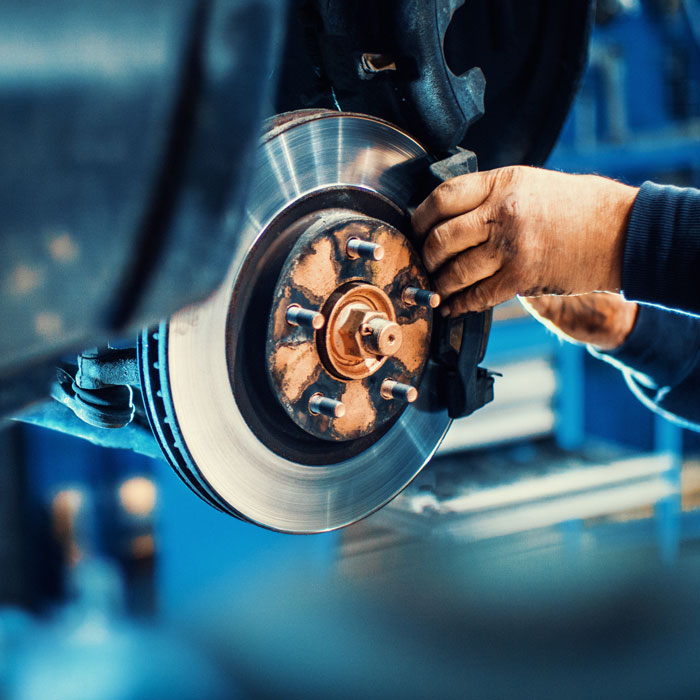 Your Vehicle's Brake System
Both the front and rear wheels of modern cars are equipped with disc brake components made up of key parts that work together to provide stopping power. These pieces wear down over time and should be inspected at regular intervals based on your vehicle manufacturer's recommendations. Our trained technicians follow the inspection guidelines of various car makers to ensure that our customers know exactly what condition their brakes are in when visiting us. The brake parts of your car that we will inspect are:
Brake Pads – Brake pads are the pieces that grab the tire to slow you down when you press the brake pedal. As you can imagine, these are the first parts to wear out and need to be replaced most often.
Brake Rotors – These are metal circular discs placed on each wheel that the brake pads compress against to slow cars down. They don't need to be replaced as often as pads but do see a lot of wear over time and can do so unevenly, requiring replacement.
Brake Calipers – The brake pads are placed within the calipers on both sides of the wheel. A caliper and piston work to create brake pad friction against the rotors. These parts usually last longer than the pads and rotors, requiring less frequent replacement, but they don't last forever.
Hoses – Brake fluid is passed through hoses and is a critical component of getting the brakes to do their job when you press down on the pedal. Hoses can form cracks and leak fluid over time.
Visit Us for a Brake Inspection Today
If it's been a while since you've had your brakes inspected, contact us to schedule an appointment. Our thorough inspections will examine the components and provide you with an honest assessment of their condition. If you hear noises, feel a vibration in the steering wheel, or have to push down harder than usual to stop when applying the brakes, there's a good chance they need to be replaced. Don't wait to have your brakes replaced before it's too late. Doing so could cause an accident or cause further damage to the brake components. Contact us to schedule brake service today.