Skip to Content
Air Conditioning and Heating
Air Conditioning & Heating Repair for Cars, Trucks, & SUVs
Your vehicle's heating and air conditioning unit performs the important task of keeping you and your passengers comfortable throughout the year. Whether the temperatures drop below freezing or are pushing a heatwave, a faulty AC or heating system can make driving unbearable. At Hewlett House of Tires, Tire Pros, our trained technicians can troubleshoot and repair any issues you're experiencing with your heating or air conditioning, so your climate control system works reliably when you need it. Contact us to schedule an appointment today.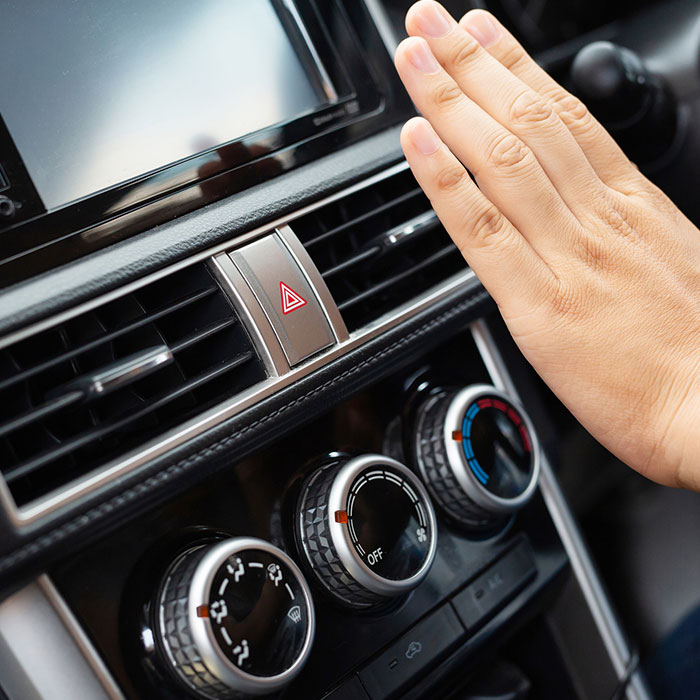 Common Issues With Car Air Conditioning & Heating
At first, it may sound obvious if your car's air conditioning or heating systems aren't working due to a lack of cool or warm air coming out of the vents. But there are more detailed issues to keep an eye out for. These are some of the most popular symptoms we see in New York that tells us you need an air conditioning or heating repair:
The nice thing about your vehicle's air conditioning and heating unit is that it can run worry-free for a long time without any maintenance. If your unit starts acting up, it's usually not because you failed to have it serviced properly. It's more likely parts have failed, which happens over time. So what could it be? Common issues with a car's heating and AC systems include:
Air Conditioning Not Blowing Cold Air – If the air coming out of the vents isn't cold when the AC is on, or you only feel cold air out of some of the vents, it might be low on refrigerant. While you can top off the refrigerant, it's critical to learn why it is low. If there is a leak, we can locate the issue and provide a repair.
No Air Is Coming Out of the Vents – If you don't have hot or cold air coming out of your vents, there's a possibility that the blower motor for the fan has gone bad. We can determine if this is the case or if there is another reason no air is flowing and offer a solution.
Lack of Hot Air When Heat Is On – If you have the heat cranked but the air coming out isn't as toasty as it should be, the thermostat might be worn out. The heat in your core is provided by the warm coolant circulating through the heater core. If the thermostat is broken, it won't accomplish this.
Other Issues – Whether it's bad smells, condensation or moisture on the floor, or odd noises when running the heating and air conditioning, we can pinpoint what is causing the issue and fix it properly.
Schedule AC & Heating Service for Your Vehicle Today
If the air conditioning or heating system in your vehicle isn't working as it once did, schedule a service appointment at Hewlett House of Tires, Tire Pros in New York for a complete diagnosis to fix the problem. Remember, not only does this system provide comfort, but it also plays a role in maintaining a safe operating temperature for your car's engine. Keeping it functioning correctly with the proper fluid levels is critical to your vehicle's overall performance. Contact us today.